Interactive, Actionable, Measurable Presentation Solution
Xprez.io is the ultimate presentation solution. You do not need a brochure, promotional web page, video, or presentation for your product or services anymore. All of these can be achieved with just one Xprez.io presentation. We create customized Xprez.io presentations with stunning designs and amazing animations. These presentations do not require any plugins, software, or downloads and run across all devices and platforms including desktops, smartphones, tablets, and even on a smart TV. Designs intelligently adjust to screen orientation and resolutions. That's not all, it is interactive, actionable, and measurable. Your audience can seamlessly interact with your presentation and you can also embed a call to action right inside the presentation. It also comes with a complete analytics engine integrated with all presentations.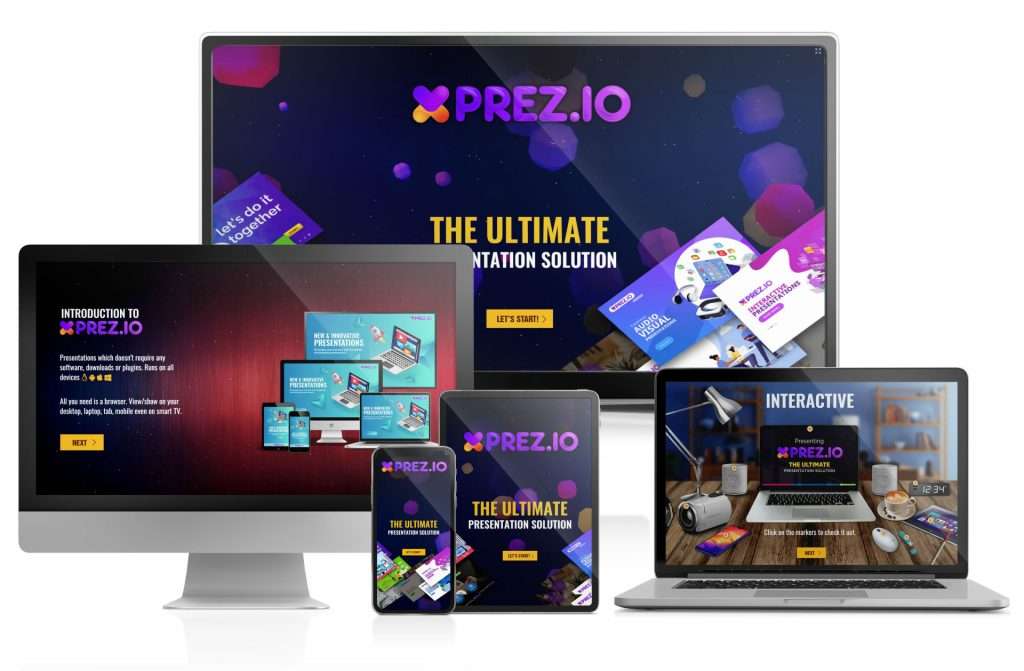 ---
SAMPLE XPREZ.IO PRESENTATIONS
Check out some of the use cases and samples of Xprez.io presentations. Click on the image below to see the samples. We recommend that you see the samples full screen (by clicking the fullscreen icon once you open the sample)
XPREZ.IO PRESENTATION FEATURES
We create custom xprez.io presentations or convert your existing presentations to interactive web-based presentations. Xprez.io presentations are packed with awesome features, some of which are highlighted below.
Fully Animated
Xprez.io comes with a range of seamless animations and transitions which makes the presentation engaging and effective. The animations can be auto-timed or based on keyboard, mouse, or touch inputs.

Stunning Designs
Since Xprez.io allows all graphics formats right from, images, vectors, or animated GIFs and videos along with web elements, the design scope is limitless. If you are looking for amazing designs, we can help you.

Interactive
Xprez.io is one of a kind solution that allows element-based interactions as well as storyboard-level interactions. Users can choose the flow and also interact on a slide level making this an ideal solution.

Actionable
Xprez.io's unique feature is that it can integrate a call to action in the presentation itself. Right from capturing user inputs or collecting leads, you can do all of these with ease, making Xprez.io a marketers' dream.
Self Adaptive
Xprez.io presentations intelligently self-adjust to screen orientations. It is not just design rotation, the elements move and adjust to create a perfect viewing experience for all screen orientations.
Responsive
Xprez.io presentations work on all kinds of displays and screen resolutions powered by its fluid design framework. Design self adjusts depending on the screen resolutions and size.
Measurable
Xprez.io presentations have an integrated analytics engine that measures and reports your audience behavior and integrations. Know where your audience is coming from and understand their activities.
Cloud Hosted or Local
You can use, distribute or view Xprez.io presentations with just a link as they can be stored over a cloud, similar to a website. It also works without the internet and can be shared as a local file.

Seamless Integration
Xprez.io offers seamless integrations with API and web elements. For example, it easily connects with your CRM for lead capture or it can easily connect and display real-time stock information.
Device Independent
Xprez.io is one of a kind presentation solution that works on any smart device. You can easily view it on your desktop, laptop, tablet, smartphone, and even on a smart TV. All you need is a browser.
Cross Platform
There are so many operating systems and software platforms. But don't worry, a single Xprez.io presentation works seamlessly across all systems including Windows, Mac OS, Android, and iOS.

No Viewer Software Needed
Xprez.io is awesome as you do not need any additional software, plugins, downloads, or installation to view Xprez.io presentations. All you need is the latest version of any browser.
USAGES OF XPREZ.IO PRESENTATIONS
Xprez.io presentations are marketers' dream solutions. Whether you are launching a product or a service or looking forward to creating awareness amongst your customers, you need quite a few collaterals but unfortunately, each of them lacks in some features. There must be a better way. Look no further, as we have got you covered. All your collateral needs can be taken care of by one single Xprez.io presentation. Check out the usages.
Presentations
Audiovisuals

Interactive Videos
Product Demos
Learning Tools
Brochures
Landing Pages
Branch Displays
XPREZ.IO IS EXCELLENT: COMPARISON vs POWERPOINT & GOOGLE SLIDES
XPREZ.IO is way ahead of the other existing presentation solutions. You need only XPREZ.IO and all your marketing needs will be resolved.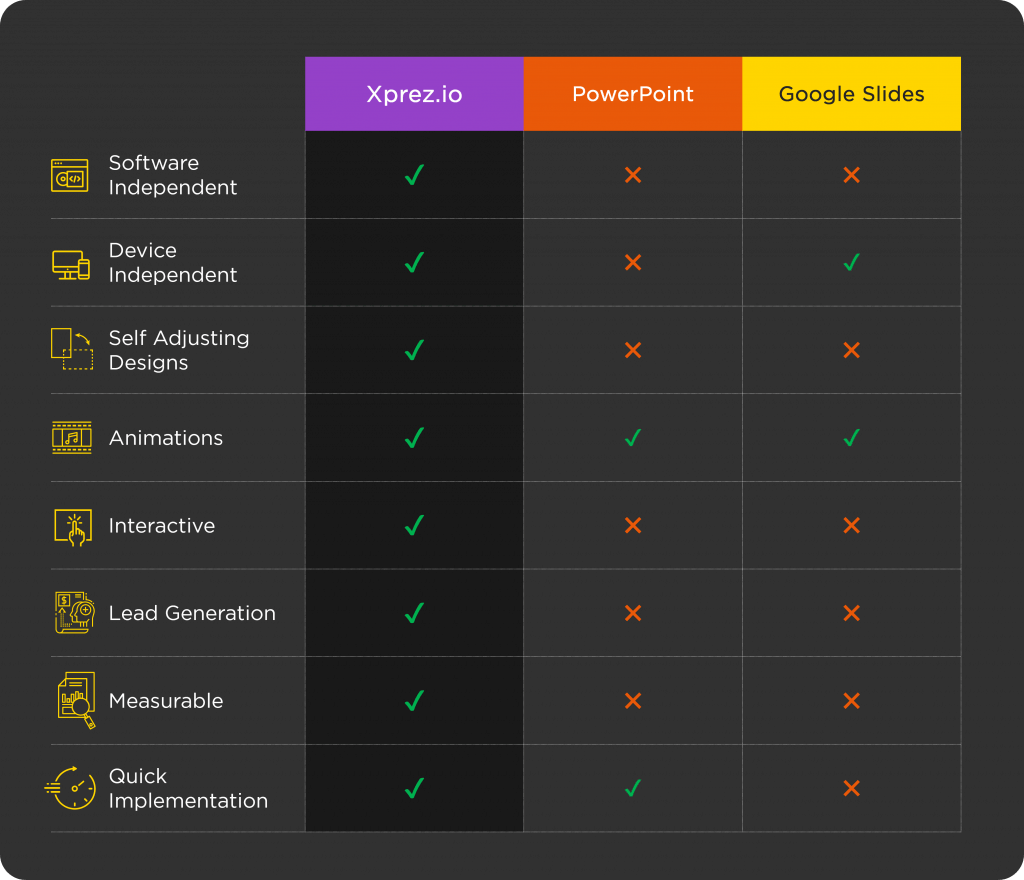 XPREZ.IO IS EXTREME: COMPARISON vs OTHER MARKETING SOLUTIONS
XPREZ.IO is the most advanced, complete, and intelligent marketing solution present in the market today.